Commemoration of Holocaust Victims by Melita Svob
The Jewish community of Croatia organized a commemoration in Jasenovac, the main concentration camp in Croatia, for Jewish, Serbian, Roma and Croatian anti-Fascist victims who were murdered in the camp during the WWII. About 80,000 people perished at Jasenovac.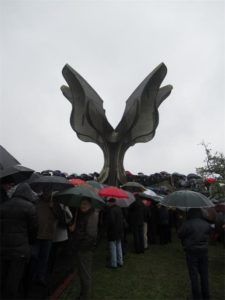 The commemoration was attended by many of the relatives of the victims as well as others. This commemoration was organized separately from the official Governmental ceremonies as a protest to recent developments in Croatia.